Pros
Friday 05 July 2019 à 18h37
Sergi Palencia in green
This Friday, the young defender trained by FC Barcelona signed a 4-year contract with AS Saint-Étienne.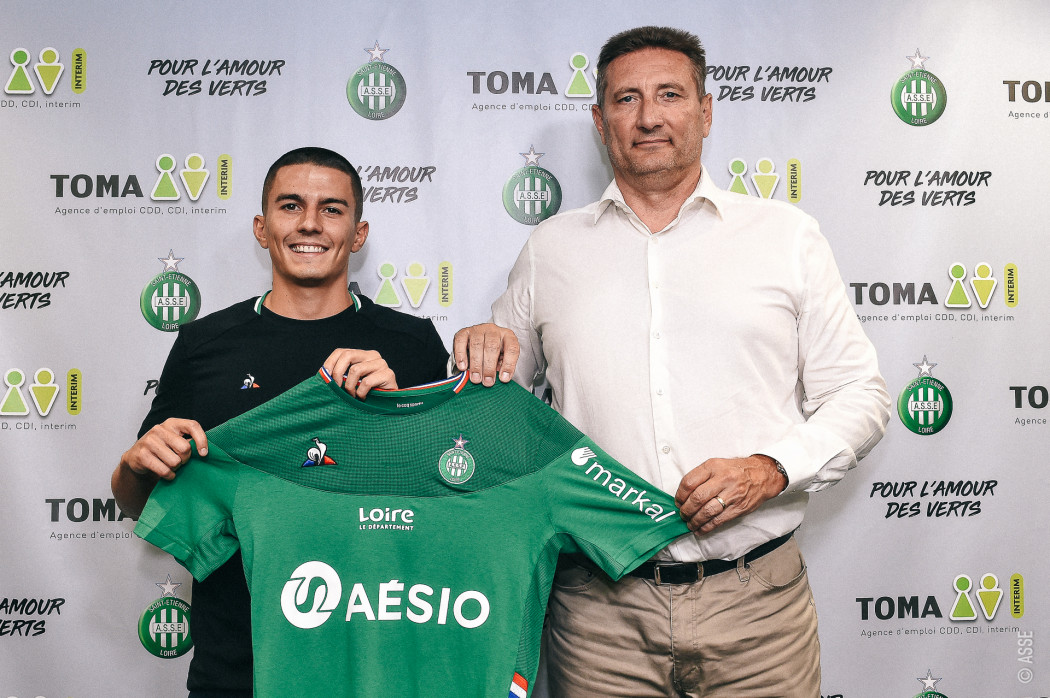 Ce vendredi, l'AS Saint-Etienne et le FC Barcelone ont conclu un accord pour le transfert de Sergi Palencia dans le Forez. Le jeune et tonique défenseur (1,72 m, 68 kg) devient ainsi la quatrième recrue de l'ASSE qui a déjà enregistré les arrivées d'Harold Moukoudi, Franck Honorat et Alpha Sissoko. Sergi Palencia, prêté la saison dernière aux Girondins de Bordeaux, s'est engagé jusqu'en 2023.


This Friday, AS Saint-Étienne and FC Barcelona reached an agreement for the transfer of Sergi Palencia. The young and lively defender (1.72 m, 68 kg) thus became ASSE's fourth recruit following the arrival of Harold Moukoudi, Franck Honorat and Alpha Sissoko. Sergi Palencia, who was loaned last season to the Girondins de Bordeaux, has made a commitment to ASSE until 2023.
Born March 23, 1996 in Badalone, Catalonia, he joined FC Barcelona at 9 years of age. It was on the youth teams of La Masia, the famous Barcelona Academy, that he first trained as a midfielder. Then, he moved quickly to the defensive right wing where his willingness to more forward and his technical skills allowed him to flourish. He was thus promoted captain of the FC Barcelona reserve team in August 2016.
During the summer of 2018, Sergi Palencia was loaned by the Blaugrana club to the Girondins of Bordeaux, with whom he played 25 out of 38 matches of the last Ligue 1 Conforama Championship. At ease on a technical level, he made 3 decisive passes wearing the Bordeaux jersey. His recent performances allowed him to obtain two selections for the Spain national under-21 football team.
With ASSE, Sergi Palencia will wear the number 23.
> Sergi Palencia: "It's a great honour to sign with such an institution. AS Saint-Étienne is a club recognized for its stability and its ambition. I am very happy to be part of it. In France, everyone knows the fervour of the fans and the atmosphere of this mythical stadium. I'm impatient to play in this ambiance as a player for AS Saint-Étienne. I'm going to do everything possible to help the team to attain its goals and give everything I have for this jersey!"
> Frédéric Paquet (CEO of AS Saint-Etienne): "Sergi Palencia is a player with great potential who our recruitment team has been following for several months. The defensive sector is in fact a sector that must be expanded in order to manage our match schedule well in light of our UEFA Europa League qualification. Sergi's profile complements the other defenders on our squad. He demonstrated a great desire to join us. His determination to succeed should allow him to progress and reach a new level with AS Saint-Étienne. He was trained by FC Barcelona and thus knows the demands of the highest level of professional Football."