Rémy Cabella is Stéphanois !
AS Saint-Etienne and Olympique de Marseille have concluded an agreement for the transfer of the International midfielder, now Stéphanois until 2022.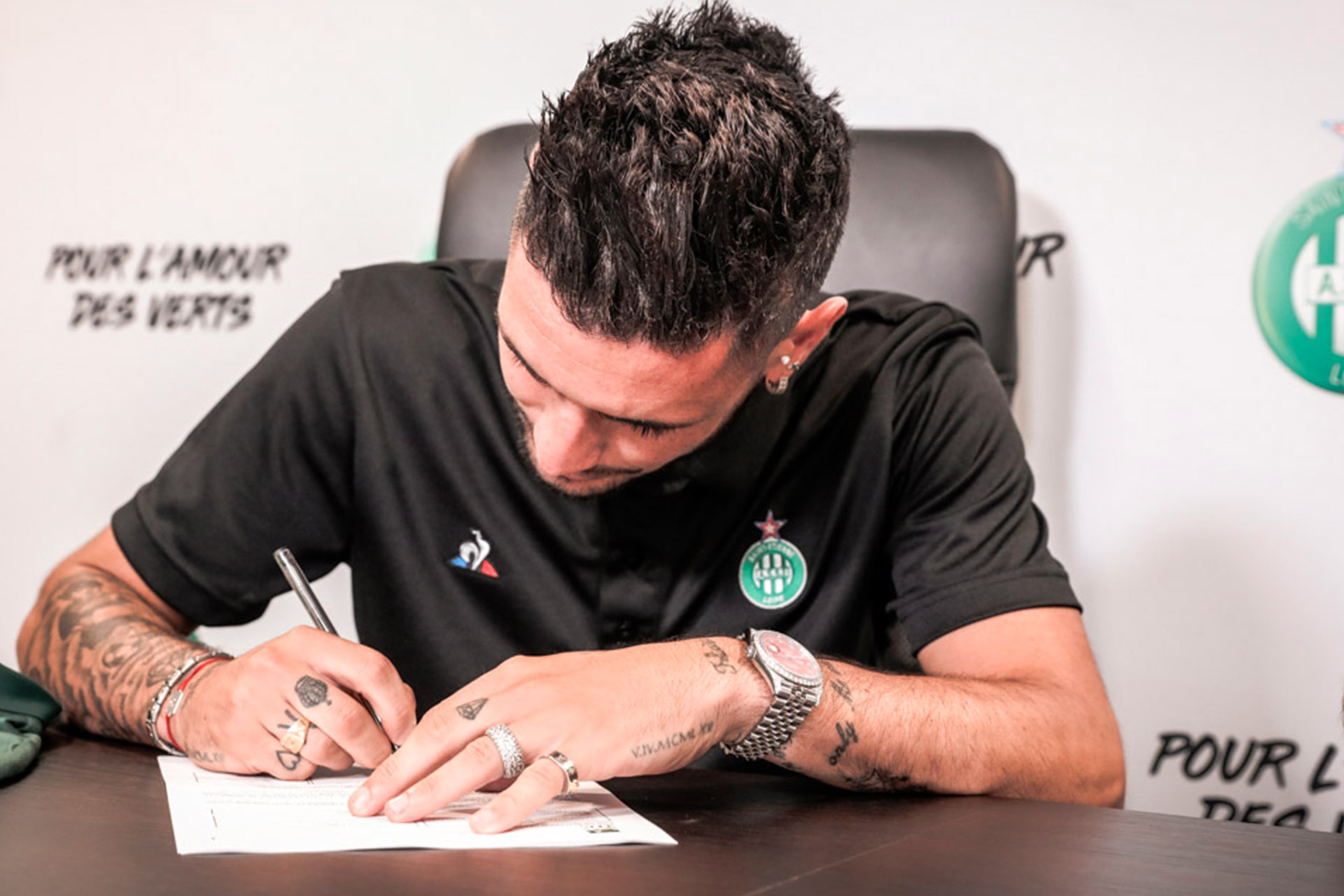 This Thursday, Rémy Cabella officially signed a 4-year contract with AS Saint-Etienne. After having recruited Wahbi Khazri and Timothée Kolodziejczak, prolonged Yann M'Vila's contract and also after having renewed those of Mathieu Debuchy and Kévin Monnet-Paquet, the club is pleased to welcome another experienced International player who is already familiar with the professional team managed by Jean-Louis Gasset. An agreement was concluded with Olympique de Marseille for his transfer.
Last season, it was under the form of a loan that the midfielder, who already had a contract with OM, joined ASSE.
Since September 10th, 2017, the day of his first official match with the Verts (1-1 against Angers), Rémy Cabella only needed one minute, to be precise 53 seconds, in order to score his first goal. The 28-year old native of Ajaccio then went on to perform well, notably during the second half of the 2017-2018 Conforama Ligue 1 Championship. He scored 7 goals and made 6 assists. His bests stats since the 2013-2014 season are having scored 14 goals total, two years after having become the champion of France with Montpellier.
Assistman and striker, Rémy Cabella participated greatly in ASSE'S superb 13-match undefeated streak that lasted from this past January 27th (2-1 against Caen) until April 27th (1-0 in Montpellier). Appreciated by his teammates for being a great person and a born competitor, the International French player, who also played in the Premier League for Newcastle United FC, quickly earned the unanimous support of the Verts' fan base.
Now Stéphanois for the nest four seasons, Rémy Cabella will wear the number 7.
Rémy Cabella: "I am very happy to come back to Saint-Etienne. I was really looking forward to this moment and I finally feel liberated! At the end of the championship, I said that ASSE would become my priority if I had to leave. Here, I feel loved in a way that I cannot explain. That affected my decision. With Wahbi (Khazri), I'm also reuniting with a childhood friend. Seeing everyone again has pleased me very much. I can't wait to begin. The number 7? 10 is the number my heat yearns for but it's a friend who will wear it from now and I'm very proud because he deserves it."
> Frédéric Paquet (CEO): "It's greatly satisfying to have been able to officially acquire Rémy Cabella. He was a key element of out success during the second half of last season. We need to strengthen our offensive line and the acquisition of Rémy responds to this necessity. Since the end of his loan, he always expressed a desire to make a long-term commitment to Saint-Etienne. He has completely adhered to our project and has shown his commitment to the club. His recruitment confirms the shareholders strong desire and our own to construct a competitive team."