Ghislain Printant appointed coach
The expert has signed a two-year contract with AS Saint-Étienne.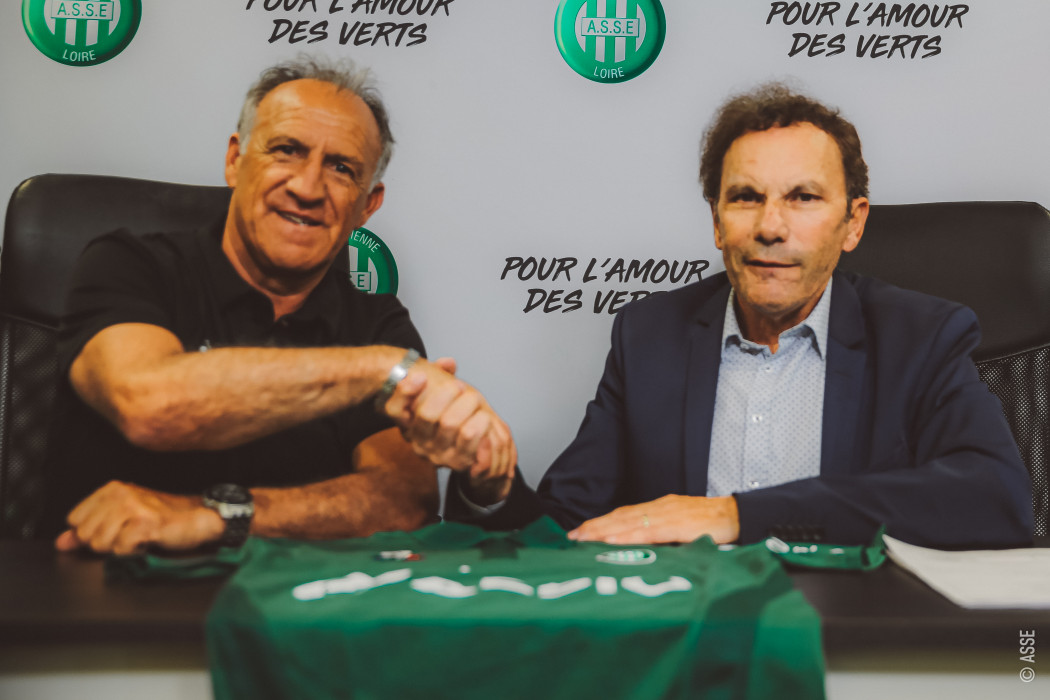 This Thursday, Ghislain Printant officially became the head coach of AS Saint-Étienne until 2021. Assistant to Jean-Louis Gasset last season, the native of Montpellier is thus succeeding his friend on the Verts' bench with the goal of continuing the remarkable work accomplished this past year and a half. This appointment precisely reflects the desire of the club to sustain the Sports Project implemented at the beginning of the 2018-2019 season and that led Saint-Étienne to the UEFA Europa League.
Ghislain Prinant joined ASSE December 23, 2017 as an assistant coach to Jean-Louis Gasset, who was appointed the head of the professional team a few days earlier. Together, the two men had already contributed, in 2017, to the rescuing of Montpellier which was threatened with relegation to Ligue 2.
Finalist of the 2015 League Cup
Since his arrival in Saint-Étienne, Ghislain Printant has been a key element of the progression of the Verts, who directly qualified for the UEFA Europa League group stage thanks to their 4th place in the 2018-2019 Championship rankings. With 65 points, ASSE earned their third best total number of points since 2004, the year of the their return to Ligue 1.


Appreciated by the entire professional team, with whom he has rubbed shoulders for a year and a half, and made strong from great experience, the 58-year old expert has already been at the head of SC Bastia between 2014 and 2016. He not only allowed the Corsican Club, which was experiencing very difficult times when he took office, to maintain its elite status but also led the club to the final of the 2015 League Cup against PSG.
Career launched by Jacquet Career
A symbol of his attachment to AS Saint-Étienne, which he supported in Glasgow on May 12, 1976, Ghislain Printant's coaching career was launched in 1989 by Aimé Jacquet, who was then coach of MHSC, who had called on him to bolster his specialized staff. The history between Ghislain Printant and the jersey of the Verts was thus written in the history books.
> Ghislain Printant: "I'm experiencing a great feeling of pride and I thank the managers for their confidence. I have the necessary ambition and energy to continue the work started 18 months ago with Jean-Louis Gasset. Saint-Étienne numbers among the greatest French clubs. We managed to regain Saint-Étienne's prestige thanks to a lot of work on and off the field. I'm taking the measure of the task that has fallen to me. I hope to meet the expectations of the managers and the fans. I'm going to dedicate everything I have in order to experience once again exceptional moments like those that we had a few weeks ago when we qualified for the UEFA Europa League in front of our incredible fans."
> Roland Romeyer (President of AS Saint-Étienne): "We are very happy that Ghislain Printant is now the coach of AS Saint-Étienne. We really want to continue the work completed by Jean-Louis Gasset and his staff. The appointment of Ghislain Printant thus immediately seemed obvious. Ghislain knows the team and the Ligue 1 Championship perfectly. We have all seen that Jean-Louis Gasset has complete faith in him. It's a logical choice given our achievements and the position of the youths in our Sports Project. Ghislain Printant is both a leader of men and a moulder of the soul. He demonstrates his great enthusiasm because he profoundly loves AS Saint-Étienne. And his passion for the club predates his arrival at the Cauldron!"