Denis Bouanga with ASSE until 2023 !
The 24-year old Gabonese international striker signed a 4-year contract this Tuesday with the Stéphanois club.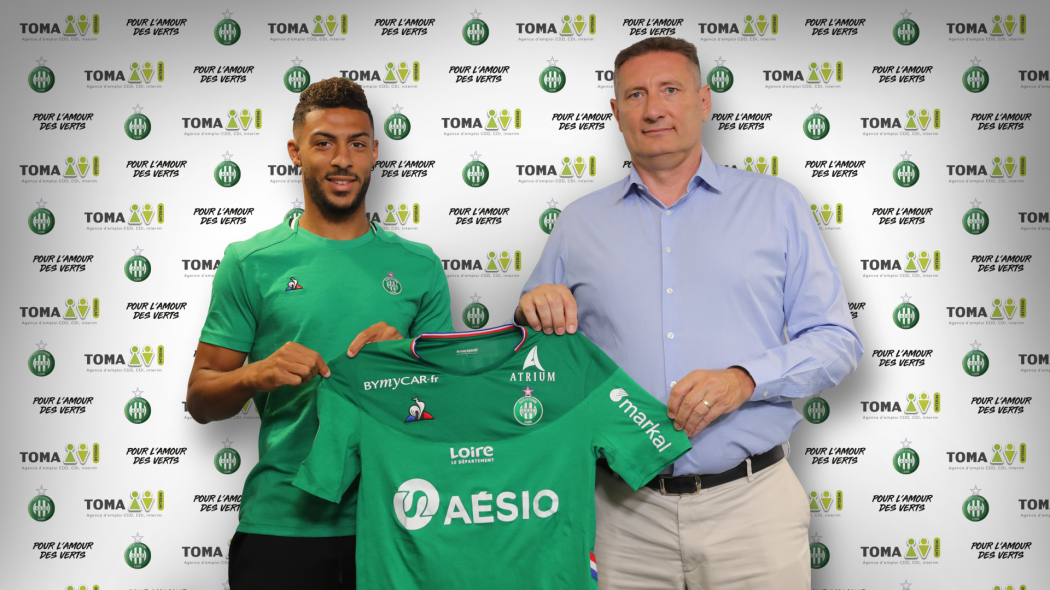 This Tuesday, Denis Bouanga officially became AS Saint-Étienne's sixth recruit. ASSE and Nîmes Olympique have in fact reached an agreement to allow the Gabonese International player to join the club until 2023. After the arrival of Sergi Palencia, Zaydou Youssouf, Harold Moukoudi, Franck Honorat and Alpha Sissoko, Denis Bouanga's signature demonstrates ASSE's determination to build a strong and competitive team.
Native of Le Mans, Denis Bouanga began his journey on the Sarthe club before joining FC Lorient in 2014. With the Merlus, he began his career in Ligue 1 November 1st, 2014 against PSG (1-2), and only waited five matches to score his first goal, August 29, 2015, against Stade de Reims (1-4). Loaned to RC Strasbourg, he allowed the Alsatian club to become French National Champions and to climb back to Ligue 2. He then played for Tours FC, where he scored 16 goals over the course of 36 matches, and was called to play for the national team of Gabon. During the summer of 2018, he was transferred to Nîmes Olympique, who had just confirmed their accession to Ligue 1 Conforama.
Mainly positioned as a right winger with les Crocodiles, Denis Bouanga immediately showed off his speed and attacking skills in the Gard. Having scored 8 goals and having made 2 assists, the Gabonese player thus participated in Nîmes' successful journey, yet promoted among the elite. Quick, he dribbles and attacks a lot. Denis Bouanga contributed especially to one of last season's greatest surprises when his teammates and him overthrew OM in the Stade des Costières (3-1, 2nd match). The Gabonese player scored, that evening, the first goal of the match.
The International Gabonese player (9 selections, 2 goals), now Stéphanois, will integrate himself into Ghislain Printant's team, which has just begun its second week of preparation.
> Denis Bouanga: "I'm very proud and honoured to sign with ASSE. I would never have imagined joining a club as legendary that is preparing to play the European Cup. For me, it's a new step in my career and I hope to reach a new stage on a personal level. I'm motivated by the idea of meeting the Green Nation wearing the jersey of the Verts."
> Frédéric Paquet (General Manager of AS Saint-Etienne): "Denis Bouanga was a coveted player and we are happy that he made Saint-Etienne his priority. He corresponds completely to the profile that Ghislain Printant wanted in order to reinforce our offensive sector, a forward striker, hard-hitting and fast."